Although the number of participants has been increasing rapidly, Japan's B2B online auctions have only just begun offering service. Anyone who has never experienced an online auction before, or anyone participating in an international online auction for the first time, may have various concerns.
"I cannot view the items directly, so can I really make a detailed inspection?"
"Won't the handling fees and shipping fees be expensive?"
"How is shipping overseas from Japan handled?"
As one of the leading online auction sites in Japan, Star Buyers Auction has also received many questions from those desiring to participate. We spoke to the support staff at Star Buyers Auction about some of the most common questions regarding online auctions.
Q1: Are detailed previews possible with online auctions?
All online auction exchanges, including previews, are completed online. How are the previews conducted? And are detailed previews possible?
"Star Buyers Auction's detailed item pages feature item information along with item photos taken from various angles. Users can check the information for every auctioned item in advance during the preview period. The photos can also be enlarged, allowing for every aspect of the item's condition to be checked." ( Mayu Mizoguchi, Manager, Auction Promotion Division, Auction Business Promotion Department, Star buyers auction )
STAR BUYERS AUCTION is also working to enhance their support system in order to address the rare cases where decisions cannot be made based on photos.
"For example, in the past we have received inquiries regarding whether photo blemishes are just dust or scratches. We try to address these as soon as possible, and respond by 3 pm for inquiries received from 11:00 am to 1:00 pm, by 5:00 pm for those received from 1:00 pm to 3:00 pm, and by 7:00 pm for those received from 3:00 pm to 5:00 pm. We respond to inquiries received after 5:00 pm by 1:00 pm the next day (all times are in Japan Time)."​ ​​ ​
If the shared details are better, STAR BUYERS AUCTION will add these to the item information so that other participants can also review them. They also provide support in English, Chinese, and French to address inquiries from those around the world.
Q2: How are items shipped when accessing an online auction from outside Japan?
Dealers may be concerned about how valuable items are shipped across borders and about the shipping costs once a successful bid is made for an item during an online auction.
"We ask those living outside Japan to select the shipper they typically use, such as FEDEX, DHL, or EMS, when opening an account because the available shippers vary by country." ( Kentaro Sakuta, Overseas Sales Division, Overseas Business Promotion Department, Star buyers auction )
Although shipping fees differ depending on the shipper, as a rough estimate, a 4 kg item often costs less than 20,000 JPY to ship. The weight of five average-sized bags is approximately 4 kg.
"We can address shipping related requests whenever a participant places a successful bid. The delivery charge mainly depends on the weight. We also handle detailed requests, such as giving priority to protecting goods with extra packing materials even if this will increase the weight slightly, or prioritizing weight to keep down shipping costs."​ ​​ ​
Participants can also choose a more secure shipper, such as BRINKS or CENTURY, if they purchase a large number of items and want more security.
Q3: If I participate from outside Japan in an online auction, are the commission fees and other terms the same as in Japan?
STAR BUYERS AUCTION also receives many inquiries from international participants about commission fees and other bidding conditions.
"We have many international participants who want to make sure they can compete on the same terms as Japanese participants. The commission fees are of course the same as those for dealers in Japan." ( Ryota Kato, Domestic Sales Division, Auction Business Promotion Department, Star buyers auction )
The following figure provides the fee details.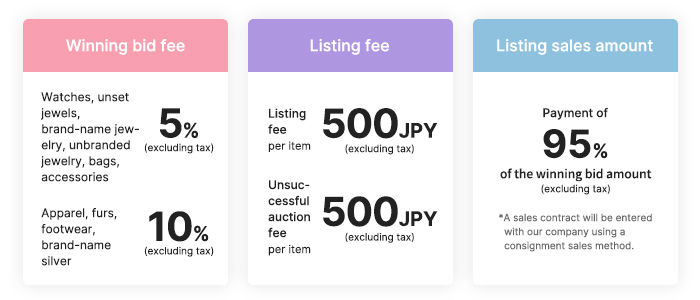 Some online auctions require system usage fees and other monthly charges, but Star Buyers Auction does not impose any such maintenance fees.
"We also receive inquiries regarding conditions such as if online auctions close at the same time in Japan and abroad. Our auctions start and close bidding at the same time everywhere in the world. Times are listed in Japan Time, so dealers should consider the time difference before participating."​ ​​ ​
Q4: How can I participate in an online auction as a seller?
STAR BUYERS AUCTION also receives inquiries about how to auction items and procedures from those who wish to participate in online auctions as sellers.
"Star Buyers Auction also accepts consignment items.
・Watches/Designer Jewelry/Jewelry/Bags: Items that can expect to receive bids exceeding ¥30,000
・Accessories: Items that can expect to receive bids exceeding ¥10,000 These are the standards for online auction listings." ( Mayu Mizoguchi )
​
Star Buyers Auction provides support for sellers using a "simple listing" format.
"Many online auctions require sellers to create lists with item names and item information before auction. This is a major burden for those who auction many items. Star Buyers Auction will inspect the items, including checking serial numbers, and create a detailed item information list on behalf of the seller if the seller ships the items to us."
When a consignment item auctioned at an online auction by a seller in Japan is successfully bid on by an international participant, the seller typically must handle paperwork for customs duties and such, whereas Star Buyers Auction also supports such requirements on behalf of the seller.
​ ​If you are concerned about using online auctions, please feel free to contact STAR BUYERS AUCTION at any time.
"Due to the COVID-19 pandemic, in 2020 many buyers stated that they had fewer opportunities to purchase offline and that they had made fewer purchases. Even those who had been concerned in the past about using the online auctions with which they were unfamiliar, are now increasingly using online auctions as a new opportunity for purchasing." ( Ryota Kato )
Star Buyers Auction's monthly transactions exceed ¥2 billion, thereby positioning the company as an online auction site that supports purchasing among buyers through stable auctioned item numbers and scale. Anyone who would like to participate should visit here to open an account. If you have any questions about opening an account, please contact Star Buyers Auction.
Social Media Sharing Buttons