Japan's online auctions are now in full swing. In 2020, the numerous B2B secondhand designer goods auctions held in Japan were either canceled or curtailed due to the global spread of COVID-19. The transition to online auctions has accelerated in order to resolve this situation in which dealers cannot conduct purchasing and other activities as desired. Likewise, there are now many auction organizers who have shifted their primary business focus from offline to online auctions, or have moved their business entirely online.
The introduction of online auctions has also made it easier for buyers and sellers from Japan and abroad to participate in auctions, which has led to increasing numbers of auctioned items and participants. Japan's online auctions have already become important locations for global buyers to purchase secondhand designer goods.
This article introduces the process, advantages, and ways of getting started with online auctions.
What is an online auction?
Online auctions are held on the Internet. Although many B2B secondhand designer goods auctions in Japan have been held offline, today these are increasingly shifting to online auctions. (Visit here to read about the reasons for this and the current boom)
Standard (*) B2B online auctions proceed as follows: preview period → bidding period → successful bid.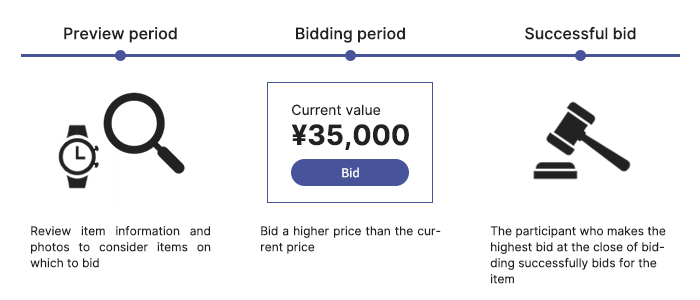 During the preview period, participants first carefully examine the item information and photos posted online in order to consider items on which to bid. Item information includes details such as whether the item is used or unused, and whether it is damaged or not, thereby enabling participants to consider items to bid on along with photos taken from various angles.
Once the bidding period begins, participants bid for their desired items. At the close of bidding, the participant who made the highest bid is accepted as the successful bidder. Online auctions are easy to understand when thinking of them in the same way as the eBay C2C auction site.
ちなみに、日本の大手ネットオークションサイトSTAR BUYERS AUCTIONの場合、下見期間は約1週間、入札期間は約6日間設けられています。
What are the differences between online auctions and conventional offline auctions?
Let's take a moment to review the differences between online auctions and conventional offline auctions.
Conventional offline auctions
Until recently, most of Japan's B2B auctions were held offline using a "hand-raising system." At these auctions, participants indicate the amount they want to bid by raising a hand or paddle in response to the call of an auctioneer who controls the room. The participant who makes the highest bid is allowed to purchase the item. In Japan, these exchanges are high-paced and auctioning off one item only takes 5 to 10 seconds.
Preview and auction are both held at a physical venue
Preview period lasts about one week
Auction is held on a specified date
Raising a hand or paddle is used to indicate the bid amount
1商品の競りにかけられる時間は5〜10秒程度(日本国内の場合)


​ ​Online auctions
In contrast, dealers can participate in online auctions over the internet using a computer or smartphone, for example.
Preview and auction are both held online
Preview period lasts about one week
Bidding period lasts approximately six days
A "bidding system" is used where participants make a bid indicating the bid amount
入札締切時に最高額を入札している入札者が落札


1週間程度(※)の下見期間を経てオークションに臨む流れはネットオークション、オフラインオークション共に同じですが、オフラインオークションの場合は、オークション開催日が限定されており、開催日程に合わせて会場に行かなければいけないなどの負荷がありました。
また、オフラインオークションの競りにかけられる時間は、1商品あたり約5〜10秒だったため、短時間のうちに競り落とすスキルや経験が求められていました。
Five advantages of online auctions
So what are the advantages offered by switching to online auctions?
(1) Anyone can participate regardless of place or time
ネットオークションの最大のメリットは、場所・時間を問わずに参加できることです。オフラインオークションの場合、現実的に定期的な参加が可能なのは、開催地近郊の企業に限られていました。しかし、ネットオークションであれば、世界中あらゆる場所から参加が可能です。日本国内の企業の方は「古物商許可証」、また海外の企業の方は身分証をあらかじめ提出し、審査が完了すればアカウント開設のうえネットオークションに参加することができます。
また、下見期間が一週間、入札期間も6日間以上あるため、時差などを気にせずに、都合の良い時間を使ってオークションに参加することができます。
(2) More participants make it easier to attract high-quality items
(1)の理由などを背景に、ネットオークションの参加企業数は急増しています。
STAR BUYERS AUCTIONの場合、2020年12月の国内登録企業数は約500社。同年3月時より150社ほど増加しています。また海外企業は約70社から200社へと大きく増加。買い手・売り手双方の参加企業が増え、良質の商品が世界中から集まりやすい状況となっています。
「STAR BUYERS AUCTIONでは、自社仕入れによる商品のほか委託出品も取り扱っているため、売り主企業の参加が増えたことにより、出品数が大幅に増加している状況です。また、買い主企業も世界中から多く集まっているため、相場の引き上げを期待する売り主に支持されており、さらに世界中から良い商品が集まるスパイラルが生まれています」(STAR BUYERS AUCTION オークション事業推進部 国内販売課 加藤 亮太氏)
(3) Enables efficient purchasing in a planned manner
ネットオークションでは、会場に赴くことなく、オンライン上で1週間の下見期間をフルに活用して商品を検討できるので、仕入れの計画が立てやすくなります。
また、入札は「自動入札」となるため、入札する際に予算の最高額を入力しておけば、他の入札者が後から入札を行った場合でも、予算の上限まで自動的に再入札が行われ、競ることができます。入札に手間がかからず効率的な仕入れが可能です。
(4) Eases entry for new participants
オフラインオークションの「手競り」は、スピーディーな競りのなかで声を挙げて金額提示するものでした。そのため、競りの経験が浅いとタイミングを逃したり、声を出すのが苦手な方や、言葉の通じない海外の方が参加しづらかったりといった点がありました。
ネットオークションでは、金額を入力しクリックするだけで入札が完了するため、そのようなハンデを感じずに競りに参加することができます。またアカウントのIDでオークションに参加することができるため、匿名性が高いことも利用しやすいポイントです。
Participating in online auctions
ネットオークションの参加手続きは簡単です。日本大手のネットオークションSTAR BUYERS AUCTIONの場合、買い主・売り主ともに、アカウント開設をオンライン上で完結することができます。STAR BUYERS AUCTIONでは、時計、バッグ、ブランドジュエリー、ジュエリー、アパレルなどの各オークションが、毎月2回定期的に開催されています。各回2万5,000点以上という取り扱い点数の豊富さを誇るB2Bネットオークションは、日本国内でも稀有な存在です。
アカウント開設は以下のような流れです。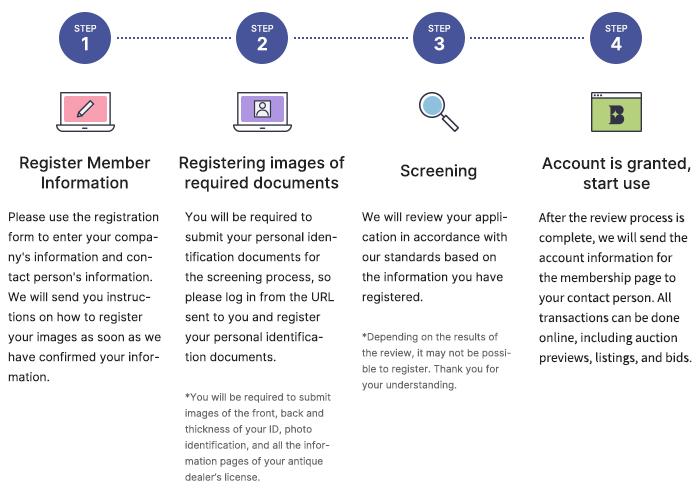 申込後、メールで案内されたURLにアクセス。日本国内の企業の方は「古物商許可証」、また海外の方は本人確認書類を画像登録した後、審査に進み、審査開始から1週間〜10日前後でアカウント開設が完了します。
「最初は、『ネットオークションで商品の見極めが可能なのか』『使い方は簡単か』など、不安に思う方もいらっしゃいます。リアルな場での対話ができない分、私たちはサポートにも力を入れています。サポートは、日本語はもちろん英語、フランス語、中国語などにも対応しておりますので、何か不明な点があれば、お気軽にお問い合わせください」(STAR BUYERS AUCTION オークション事業推進部 オークション推進課 課長 溝口 麻友氏)
アカウント開設は、
こちら
から申し込みを行うことができます。ぜひ、ネットオークションの活気を楽しんでください。
(注釈)※オフライン・オンラインともに、オークションの流れや日数などについては、STAR BUYERS AUCTIONの内容をもとに記載しています。
Social Media Sharing Buttons