B2B online auctions are attracting interest both in Japan and abroad. Buyers from countries all over the world are starting to participate in Japan's online auctions as a new route for purchasing goods. Efficient purchasing of valuable goods is an important factor that impacts the business of buyers. So, which of the various online auction sites that have emerged should you choose?
This article introduces the four criteria for clearly identifying online auctions that support efficient purchasing among buyers.
Beneficial online auction criterion 1: Abundance of auctioned items
An abundance of auctioned items during every regularly held online auction is an important factor in supporting purchasing among buyers.
Many buyers check online auctions, offline auctions, wholesalers, exhibitions, and many other supply sites as part of their regular purchasing activities. Reducing the number of purchasing sites can help save time and effort. The existence of online auction sites with an abundance of items is thus a major help in achieving efficient purchasing.
When registering for an online auction site, pay attention to the number of auctioned items on the site.
Beneficial online auction criterion 2: Availability of a reliable purchasing route
Online auction operators must maintain a robust purchasing route in order to ensure a consistently abundant listing of the freshest items.
Does the online auction operator have...
Purchasing centers that serve as a unique purchasing route?
A large number of purchasing centers?
Purchasing centers that are popular among the consumers who sell goods?
These and other questions serve as the basis for determining the quality of items offered by online auctions.
Items sold for the first time on the secondhand market, such as those purchased directly from consumers, are called ubuni in Japan and are treated as high-value items. Online auctions that attract a large number of these items are popular among sellers of consignment items who want to see higher prices, thereby creating a virtuous cycle in which these online auctions tend to attract ever more quality items.
Beneficial online auction criterion 3: Reliable inspection and care
Another factor in judging if an online auction can be used securely is whether the auctioned items have been thoroughly inspected in advance. In addition to the reliability of appraisals, dealers should also check the condition in which items are auctioned.
Does the online auction employ specialists with extensive knowledge on watches, bags, jewelry, apparel, and other items?
Are items auctioned in a maintained, cleaned, and good condition so that they can be sold again immediately after making a successful bid?
Does the online auction employ technicians who can care for items?
Check these and other questions.
In fact, there are only a few auction operators that employ technicians who can repair watches and maintain other items, whereas most auction operators auction items before maintenance. In such cases, the purchasing buyer incurs the cost and effort involved in maintenance. In order to sell purchased items efficiently, dealers should understand the stance online auctions take when listing items.
Beneficial online auction criterion 4: Extensive support system
Online auctions must have an extensive support system specifically because all exchanges are completed online. For example, dealers may have detailed concerns including questions over whether a blemish seen in a photo is just dust or a scratch when reviewing items during the preview period. An online auction that responds quickly to such detailed questions enables stress-free previews and purchases.
Online auctions must also offer support in English, Chinese, French, and other languages when they are accessible to dealers around the world.
Starting transactions on a beneficial online auction
This page covered the four criteria for choosing a favorable online auction.
これらの条件を満たした数少ないネットオークションの一つに、日本大手のネットオークションSTAR BUYERS AUCTIONがあります。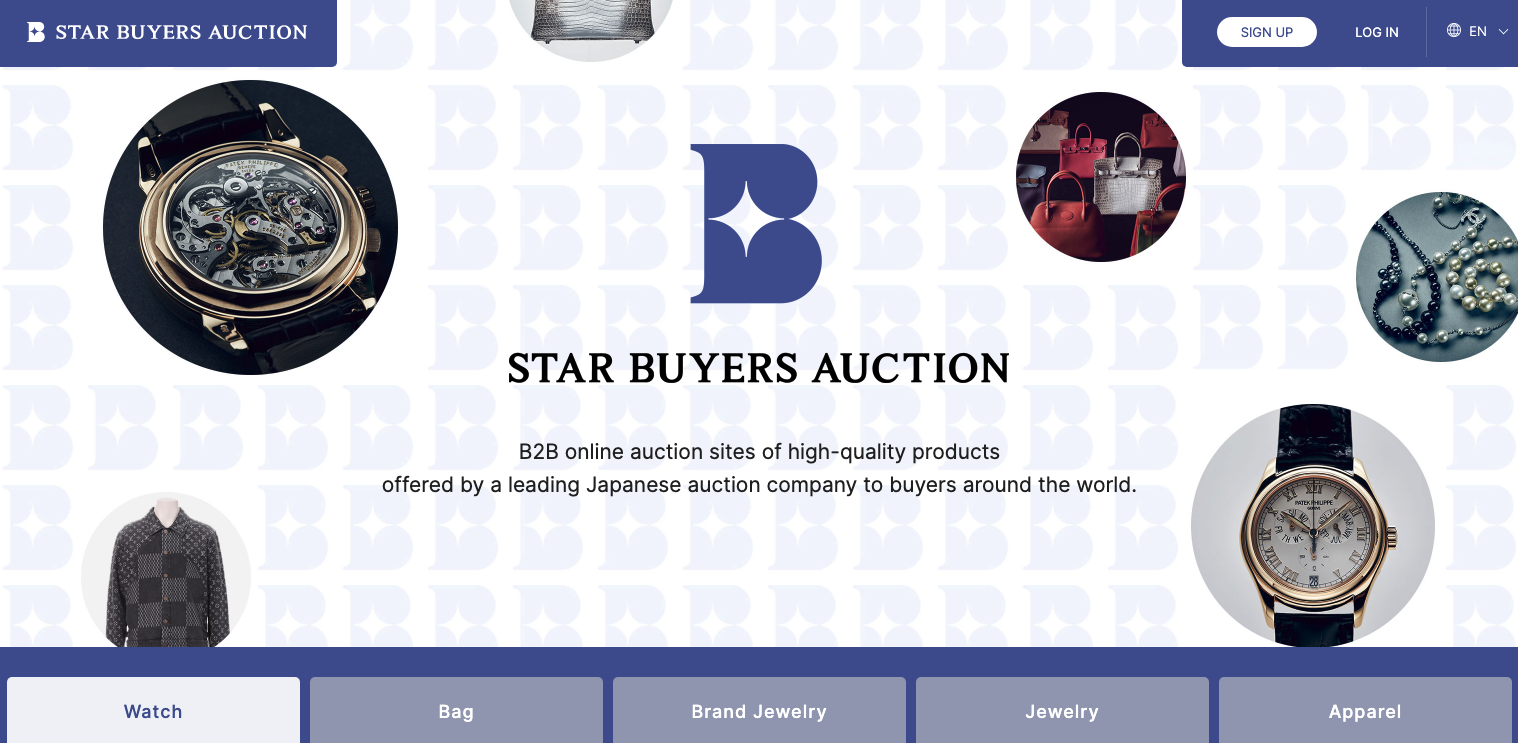 Star Buyers Auction holds regular auctions twice a month separately for watches, bags, designer jewelry, jewelry, and apparel, among other items. B2B online auctions that boast an abundance of more than 25,000 items offered during every event are rare even in Japan.
This stable supply of products is made possible by our unique purchasing routes. We have established our own consistent procurement system by expanding our operation to numerous purchasing outlets in Japan and around the globe. In addition, we sell items on consignment, so our online auctions always attract high-quality items from all over the world.
We employ specialists and technicians with extensive product knowledge, and we make sure that the products we purchase in-house are well-maintained and repaired before they are listed. Furthermore, we have an excellent language support system for English, Chinese, and French.
効率的な仕入れを支えてくれる、良いネットオークションを始めてみたいと思ったら。まずは、
こちら
からSTAR BUYERS AUCTIONに参加してみてください。
Social Media Sharing Buttons